University Teaching & Learning Office
Providing leadership to the UTLO, Professor Rubby Dhunpath is committed to achieving Goal 1 of the UKZN Strategic Plan (2017-2021) - To achieve excellence in teaching and learning.
In pursuit of promoting student access, success and diversity, the UTLO initiated various projects and programmes in response to the transition from contact to remote teaching and learning.

In our endeavour to offer a progressive and responsive curricula, the UTLO committed to processes that enhance digital curriculum transformation.
To ensure an outstanding academic experience, the UTLO continues to provide staff and student development opportunities. In pursuit of excellence and creativity in alternative modes of teaching and learning, the UTLO made research and development funds available to researchers and innovators.
UKZN eLearning Symposium
The UTLO hosted its inaugural Virtual eLearning Symposium titled "New Horizons in Teaching and Learning in a Changing Higher Educational Landscape" on 20 September 2021. The Symposium was attended by around 180 delegates who were welcomed by Deputy Vice-Chancellor of Teaching and Learning, Professor Sandile Songca.
The eLearning Symposium was a one-day online event that provided a platform for staff and students to present innovative teaching and learning approaches in the ever-changing educational landscape. It presented an opportunity for the University community to advance the community of practice on online and blended approaches by engaging and interrogating shared experiences, challenges, successes, and opportunities as we embrace the online/ blended learning future in Higher Education and beyond.
The keynote speakers were the Vice-Chancellor and Principal of the University of Johannesburg, Professor Tshilidzi Marwala and Professor Craig Blewett of UKZN's School of Management, Information Technology and Governance. Professor Marwala discussed how COVID-19 had disrupted conventional modes of teaching and learning, further deepening inequality, while Professor Blewett described the 18 months of the pandemic as an experiment in which Higher Education Institutions explored online learning. As part of representing student voices, a student eLearning competition was run. Students were asked to write an essay on their challenges and experiences associated with online learning. Tablet prizes were presented to three winners: Mr Simangaliso Madondo, Mr Nelson Nkunda and Mr Sizwe Sidaza.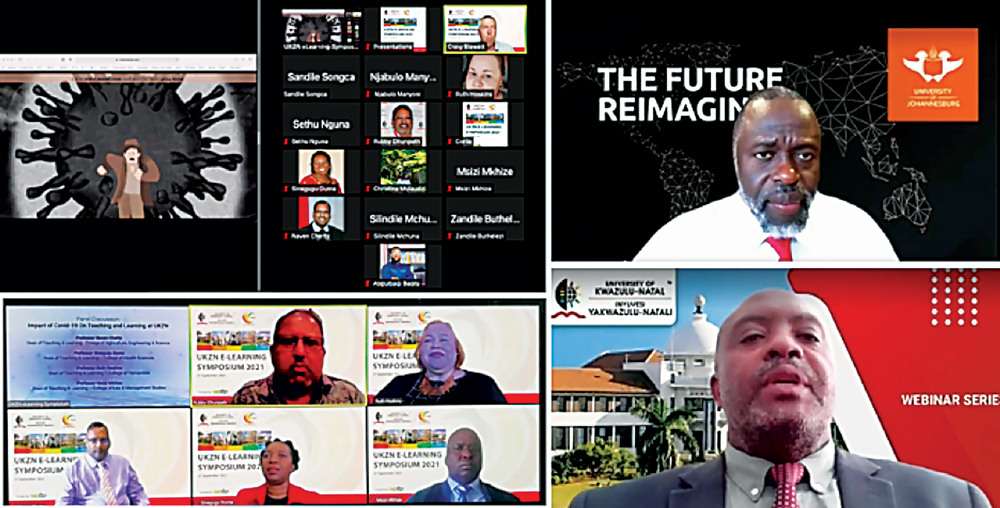 UTLO hosts its inaugural Virtual eLearning Symposium.
A panel discussion on the impact of COVID-19 on teaching and learning at UKZN was chaired by Professor Rubby Dhunpath, and featured the four College Deans of Teaching and Learning: Professor Naven Chetty (Agriculture, Engineering and Science); Professor Sinegugu Duma (Health Sciences); Professor Ruth Hoskins (Humanities) and Professor Msizi Mkhize (Law and Management Studies). The UTLO, Student Services Division (SSD), Information and Communication Services (ICS), Disability Unit and University Technology Enhanced Learning (UTEL) at UKZN also presented on their roles in supporting students in online learning.
The best presentation award was presented to Dr Roshni Gokool and Professor Andre Vosloo. The organising committee chair Mr Abdulbaqi Badru concluded with a vote of thanks, acknowledging the members of the organising committee, the media team (UTEL), the abstract review committee, and the essay review committee.
Staff Capacity Development
Student-centred Active Teaching Online Course
To promote capacity development of academics on online and blended approaches, the UTLO purchased licences for an innovative approach to teaching an online course. The learning outcomes are to learn and experience how to design and deliver an engaging online and blended course. More than 500 academics had completed the limited version of the course at the beginning of the pandemic. In 2021, the purchase of the full version was initiated because more than 400 showed interest in taking the course and found it valuable. It has 50+ how-to videos for all skill levels and is fully online and self-paced.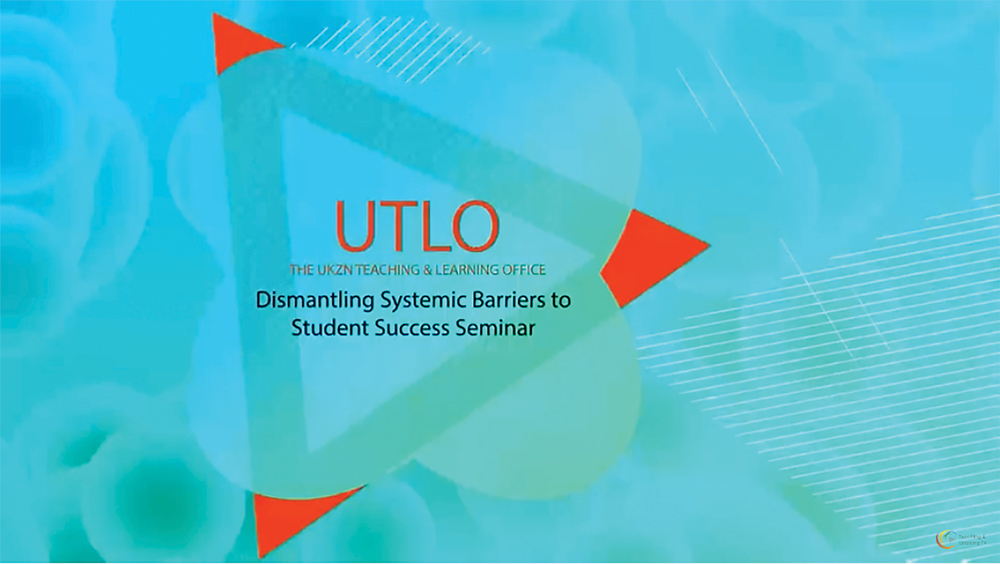 2021 Workshop and Seminar playlist on T&L TV
Workshops and Seminars
Academics at UKZN are encouraged to engage in the scholarship of teaching and learning (SOTL) in order to perform effectively and to remain at the cutting edge of knowledge and skills in Higher Education. A range of workshops and seminars are conducted to support them to advance their capacity to conduct rigorous scholarship in teaching and learning. The topics cut across different aspects of remote/ online learning, such as disrupting pedagogies, curriculum, tools, assessments, etc. The 16 seminars and workshops held in 2021 attracted more than 550 attendees. Table 1 below presents a list of the workshops and seminars conducted in 2021. The recordings of the videos can be found on the 2021 playlist of the T&L TV.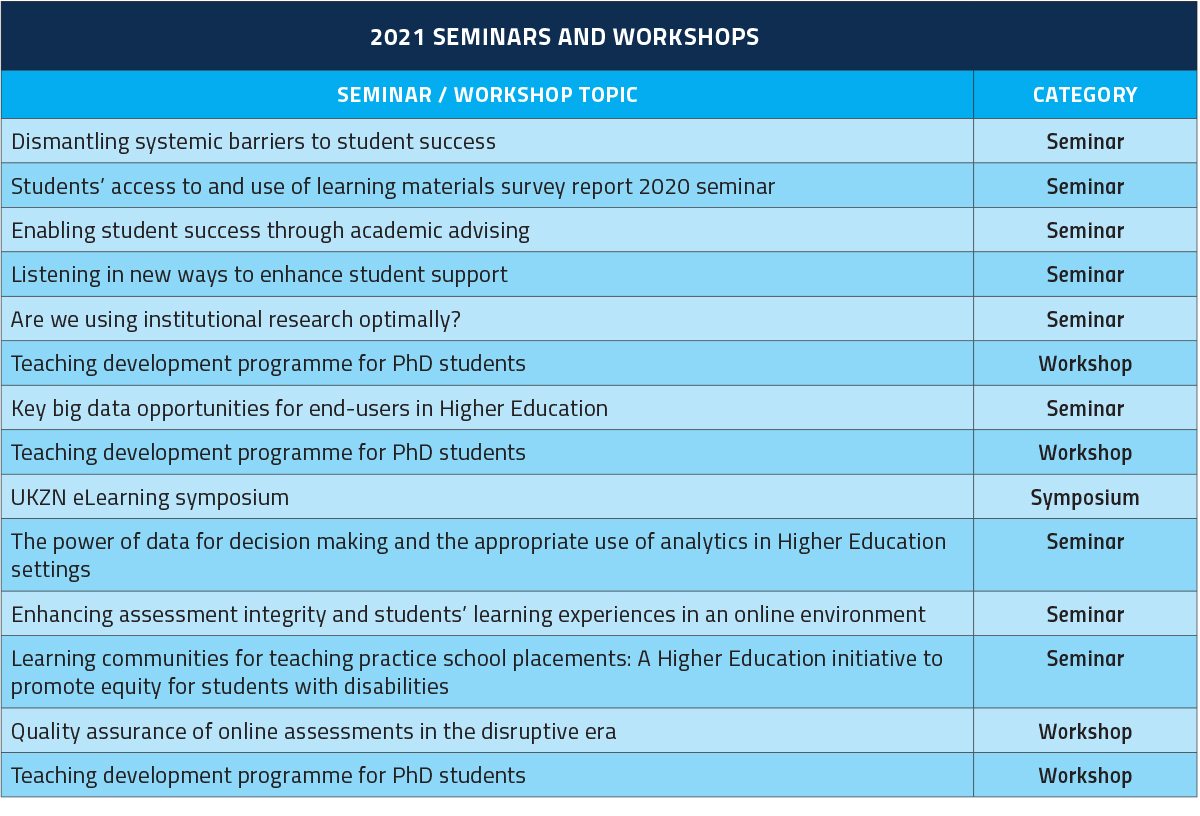 Table 1. Workshops and Seminars Conducted in 2021
Student Capacity Development
Understanding Plagiarism Online Short Course
The UTLO acquired an online understanding plagiarism course from a team of academics enthusiastic about academic integrity. The team, which included Dr S Mahomed, Professor I Mackraj, and Professor C Blewett, was funded by the UTLO in 2019 through the Teaching Innovation and Quality Enhancement Grant to develop the plagiarism course. It was piloted in specific Schools, and the evaluation showed how valuable it would be for the Institution.
The fully self-paced online course, which can be taken in English or isiZulu, has been redesigned according to the UTLO online course guideline and will be offered institutionally in the first semester of 2022. It will capacitate students with the plagiarism dos and don'ts with practical examples and introduce them to the UKZN Plagiarism Policy. During this online journey, students will learn what plagiarism is, how to identify and avoid it, and the tools available to detect it.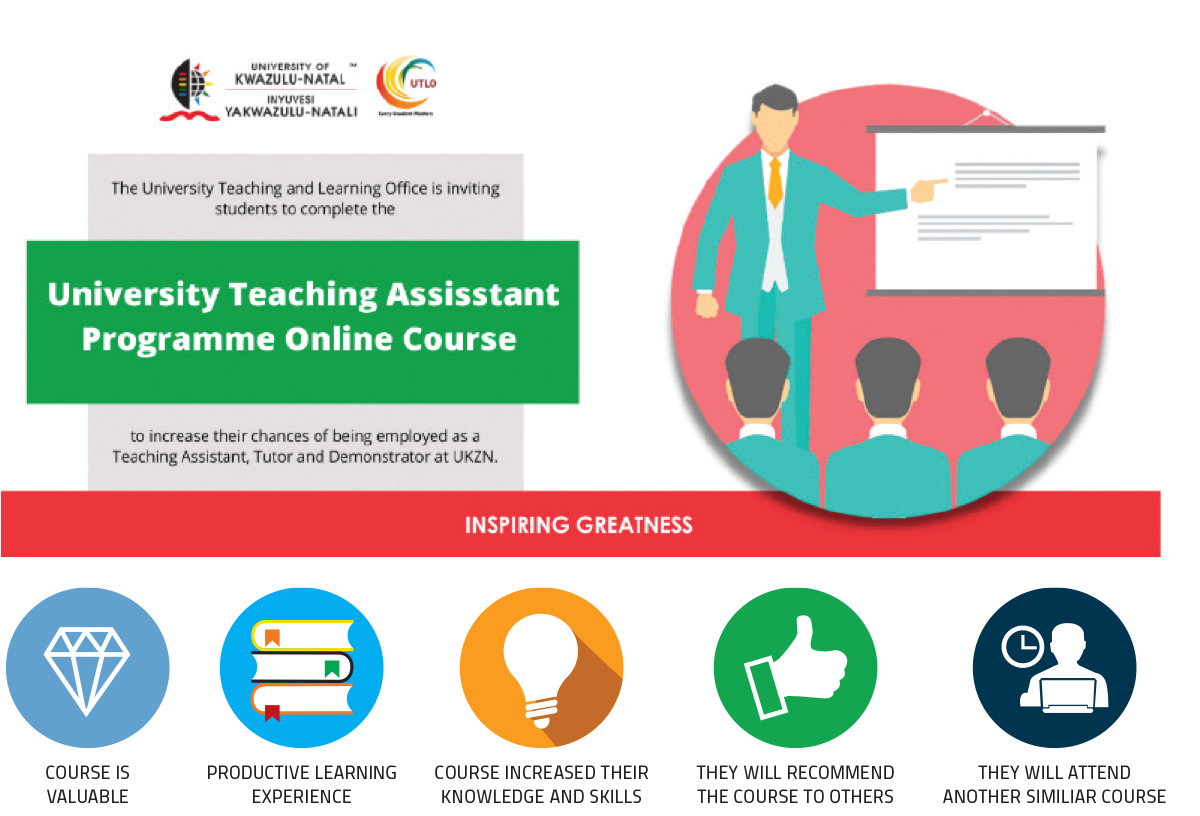 UKZN Teaching Assistants Programme (Online Certificate Course)
The UTLO capacitated more than 500 teaching assistants at the University to ensure quality in student support offerings. The training programme is a fully online certificate course. A total of 435 tutors were certified during the 2020 and 2021 academic sessions across all Colleges. The course evaluation shows that participants found the course valuable, and they would recommend it to colleagues. The course underwent development in 2020 and 2021 based on the evaluation and independent reviews. Its new features include a redesign to maximise student engagement, the addition of tutor online content; and certificate issuance automation.
Teaching Development for PhD Students Programme
The South African Higher Education sector is undergoing many changes, such as massification, diversification, transformation, technologisation and other innovations. Demand for highly skilled, innovative academics to work in this transforming milieu has grown exponentially. The University Capacity Development Programme (UCDP) Teaching Capacity Development Programme hosted by the UTLO is designed to enhance the competence of PhD students through strengthening and consolidating their knowledge of teaching and learning.
The programme aims to: -Enable students to make informed choices on whether to pursue an academic/teaching career in Higher Education. -Empower enrolled PhD students with teaching skills. -Increase the number of staff with teaching capabilities. -Develop students' skills to design, assess and evaluate curricula in Higher Education. -Develop their capacity as research supervisors.
A PhD workshop was hosted by the UTLO in February 2020 to enhance the pedagogic competence of PhD students. It focussed on strengthening and consolidating their knowledge of teaching, learning, designing, and evaluating curricula and assessment in the Higher Education context as well as developing their capacity as research supervisors.
PhD candidates were invited to attend a seven-day programme developed with the aim of empowering currently enrolled PhD students with teaching skills so as to increase the number of staff with teaching capabilities and to enable them to make informed choices on whether to pursue an academic/teaching career in Higher Education. Due to high demand for the programme in 2019, not all PhD students who expressed interest could attend. Therefore, the 2019 waiting list was utilised to invite PhD candidates to the 2020 session which took place from 19 to 27 February 2020 (excluding the weekend). The session impacted 20 PhD candidates. The group comprised of 19 African students and one white student, with 14 males and six females.
In 2021, the programme was revised to suit an online method of delivery and to absorb concepts of online teaching and learning. Three sessions were held over the year. The June workshop reached 28 PhD students, while there were 17 participants in August and 42 in November. The programme was thus attended by 87 PhD candidates who reported that they found it useful for their career trajectories.

Figure 5. ULOP and UTOP TOP Pageviews
Advancing Technology-Enriched Teaching and Learning
Digital Literacy Portfolio
In advancing its mandate of promoting global standards of teaching and learning at UKZN, the UTLO initiated the Digital Literacy Portfolio in 2021. The portfolio encompasses digital literacy courses to capacitate staff and students for the 21st century teaching and learning space and also includes a digital competency intelligence tool. The data collection tool allows UKZN staff at various levels to slice and dice information on students' digital competency levels to offer insight into the type of support students require in the Institution. Two other prominent projects in the digital literacy portfolio are the student and staff digital literacy courses, which have been initiated and are undergoing development.
Teach and Learn Online PortalS
In mid-2021, the UKZN Teach and Learn Online Portals (UTOP and ULOP) were reviewed, and the web analytics data showed increased uptake of the resources. The ULOP home page had 49 637 views, followed by the "accessing and using student emails" page with 8 400 views and the "using Moodle as a student" page with 5 194 views. The UTOP home page had 33 648 views, followed by the "zero-rated data to students and staff to specific UKZN sites" page with 11 957 views, and the quick guide on how to check your data balance with 5 326 views. The UTOP and ULOP sites are currently being redesigned and updated.
Appointment of Instructional Designers
The UTLO appointed five Instructional Designers (IDs) who will be instrumental in operationalising the UKZN digital literacy strategy. In 2021, the IDs initiated the development of an institutional instructional design strategy and they are currently developing College-specific strategies. The high-level responsibility of the IDs is to facilitate the digital transformation of teaching and learning at the University via implementing course design and supporting staff and students through training and workshops.
University Technology Enhanced Learning (UTEL)
The impetus given to digital transformation and the move to online learning during the COVID-19 lockdown saw academic staff migrating to digital delivery of materials. Although most staff were working from home in 2021, UTEL staff came in to open and operate the studios to record and distribute various types of programmes as follows:
Lecture Capture - In 2021, more than 154 lectures were recorded, edited, and delivered to students digitally. They include hybrid recordingsthat are sent to UTEL for post-production and uploaded to Moodle or delivered to academic staff for distribution. UTEL staffprovided backup and technical support.

Production of Teaching and Promotional Videos - Besides lecture capture, UTEL recorded and produced more than 92 long-form videos that include seminars and presentations by guest lecturers in studio; some with a small studio audience. UTEL also recorded and facilitated live connections between the studio, Zoom and other centres using multiple video monitors and sound feeds. These larger videos include Biokinetics demonstrations, instructional videos, Orientation, Open Day, conferences, discussion panels, student and staff presentations, subtitling and animation, virtual graduation ceremonies, promotional videos and health presentations.

Digital Archive (Archival and Digitisation) - An ongoing initiative is the digitisation of video, photographic and audio materials from various University archives. Besides digitising more than 700 tapes for the library, UTEL staff continue to digitise the vast number of tapes, CDs, and DVDs from the former AV archive. UTEL staff then store and tag them onto EVO, UTEL's shared storage device that is also used in collaborative video editing and project sharing. When staff worked from home, they ingest materials and upload them remotely to EVO.

Sound and Music Production - The sound studio has been used for voice-over work, narration, translations, and Voice-to-PowerPoint recordings.

Training and Teaching - UTEL activities included training sessions and seminars for departments, technical training on video downloads and the addition of sign language to existing videos.

UKZN Media Space - UTEL has been actively involved in developing and publishing materials to the UKZN Media Space, an interactive portal for UKZN video materials, which serves as an internal YouTube for the University.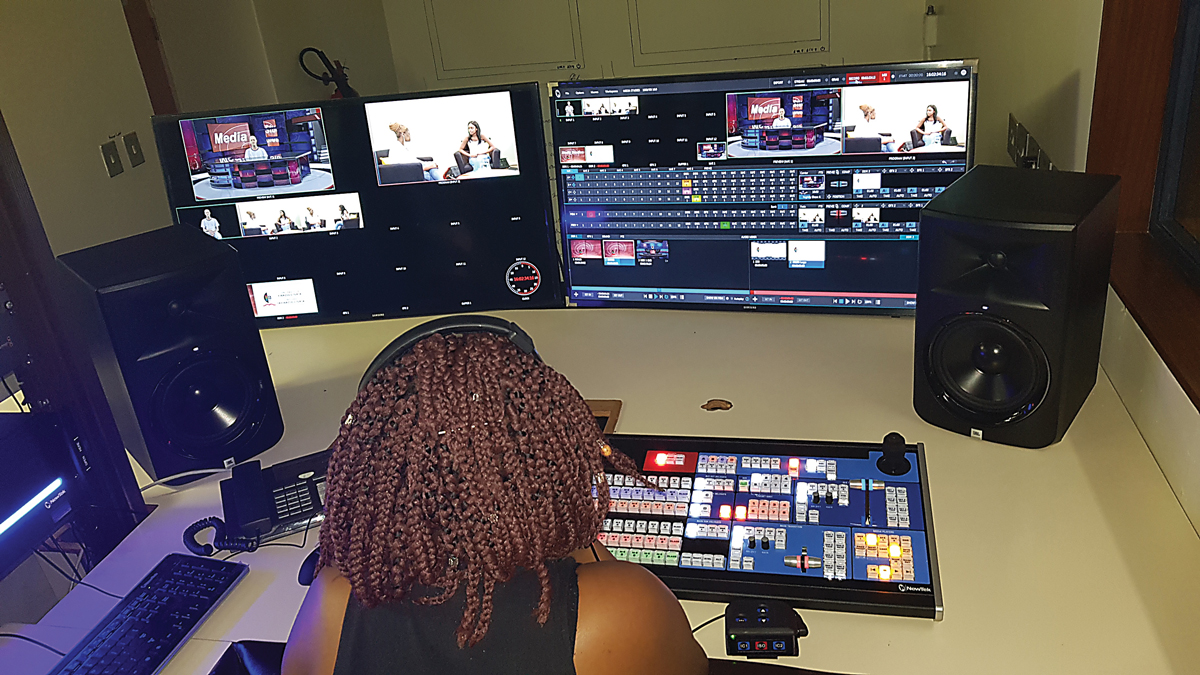 Academic Computing Support Team
Academic Computing (AC) is one of the units in the ICS Division. It is responsible for systems management, ensuring that the Learning Management System (Moodle) and other technologies as well as the necessary support are available for online learning. AC embarked on a process to introduce, implement and provide intensive training to adequately prepare staff to engage with online technologies. Staff had to acquire new skills over a short period. User documentation for teaching staff and students was uploaded to the UTLO website. Online self-help resources were created on an ongoing basis to assist teaching staff and students.
The tools used by AC include:
A plagiarism checker tool
The learning management system
A grammar checker tool
Asynchronous and synchronous engagement tools
A video hosting platform
An online artificial intelligence support chatbot
First-Year Student Orientation on the Use of Learning Technologies
Each year, the University's ICS Division works with first-year students during orientation to help them familiarise themselves with the various ICS systems they will use throughout their studies.
In 2021, the University continued with remote teaching and learning and adopted multiple technologies. Colleges invited ICS to their online orientation to demonstrate the use of these technologies, including Moodle – the University's official learning management system, Zoom, and TEAMS. Students were also assisted with installing and configuring GlobalProtect. Colleges had to think of innovative ways to welcome first-year students. For example, the College of Agriculture, Engineering and Science (CAES) created interactive videos in English and isiZulu to provide important information to their students.
Staff and Student Training
From June 2020 to December 2021, training was offered on request. Colleges required specific training for academic and professional services staff, and students.
Moodle, Kaltura, PowerPoint, VLC, and Handbrake support materials were developed to help staff acquire relevant skills to teach online. Short instructional videos and guides are available on the UTOP website. Academic computing consultants continued to assist with the online research seminars hosted by the UCDP/Research Office. They presented introductory sessions on NVivo and IBM® SPSS® for statistical analysis and also provided after-class technical support to students.
Institutional Research Initiatives
Institutional Profile
Headcount Enrolments (2019 – 2021)
This section presents UKZN's institutional profile for 2021. Table 2 shows that in 2021 the University registered 44 314 students, of whom 33 219 were at the undergraduate level and 11 095 were postgraduate students.
Table 2: Institutional Headcount by Qualification
Table 3 below disaggregates students registered across the University by race. Approximately 84% of the students registered at UKZN in 2021 are African. This is followed by 14% Indian, 2% Coloured and 1% White.
Across racial lines, more females than males were enrolled.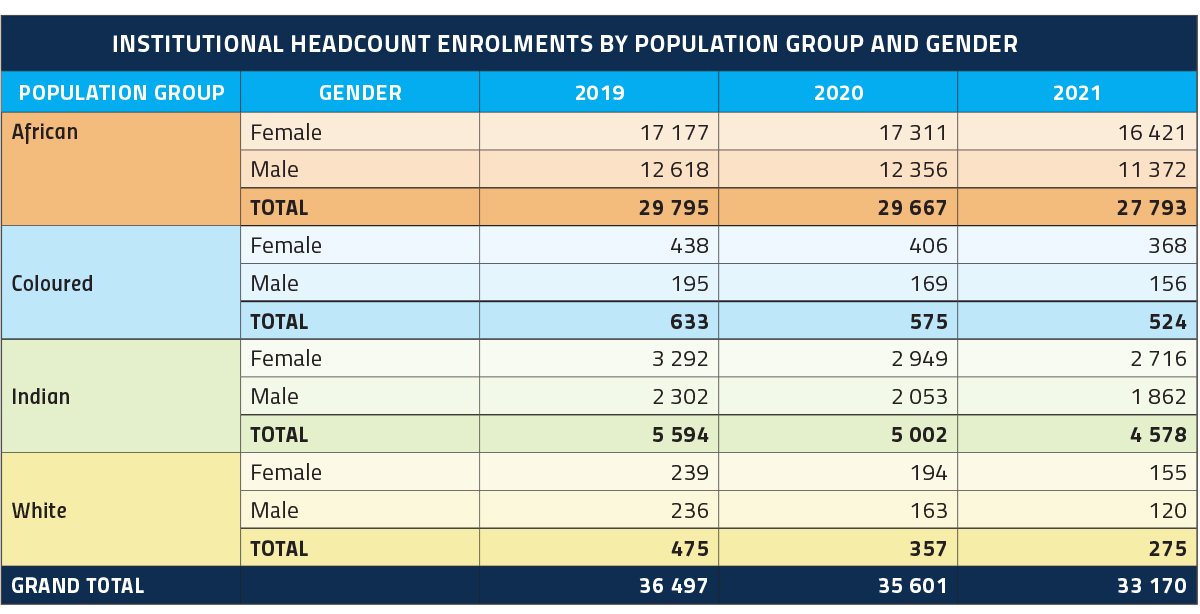 Table 3: Institutional Headcount Enrolments by Population Group and Gender
First-Entrant Undergraduate Profiles (2010-2021)
This section reflects the number of first-time entering (FTEN) students from 2010 to 2021 after achieving their matric. The criteria for data analysis included: First-entrant undergraduate students enrolled in three- and four-year (including Medicine) undergraduate degree programmes, subsidised, contact, full-time. Data extracted 4 May 2022.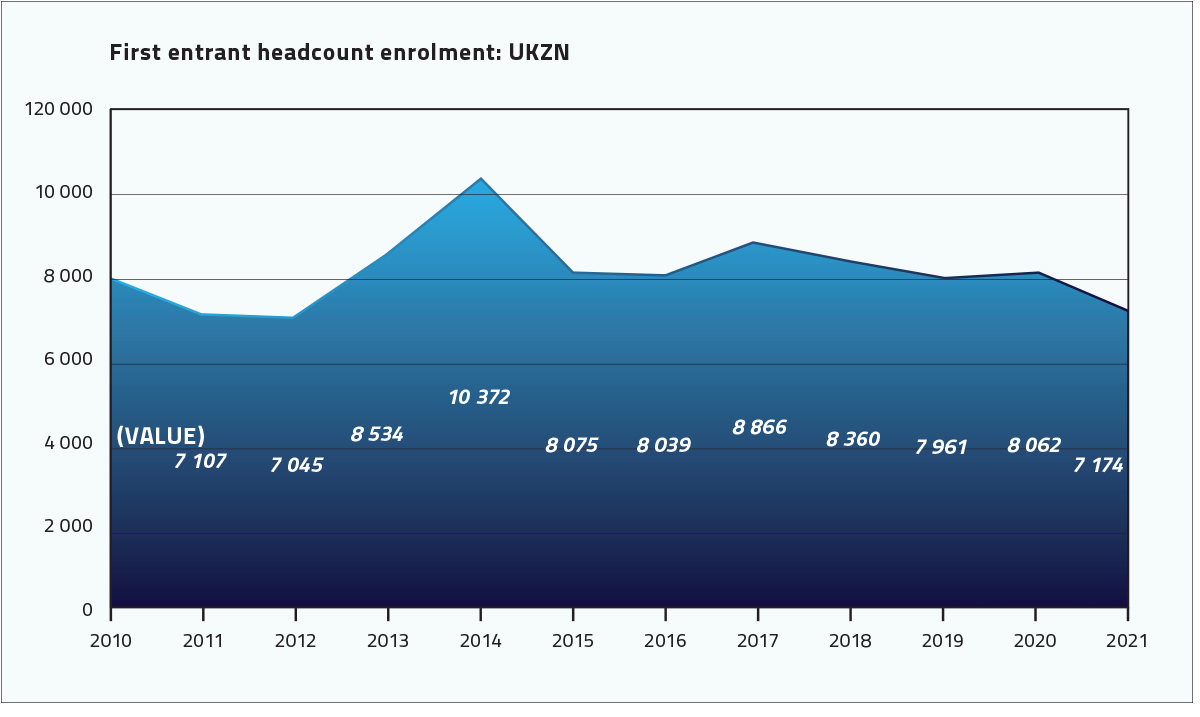 Figure 6: First-entrant Headcount Enrolment: UKZN
Figure 6 shows that there was a significant decrease in FTEN undergraduate students, from 8 062 in 2020 to 7 174 in 2021.

The profile of the 2021 cohort admitted to undergraduate studies at UKZN shows that of the 7 249 new students enrolled in bachelor's degrees, 84% are African, 13% Indian, and 1% White.

In absolute terms this is the highest enrolment of Africans in UKZN's history. However, the enrolment of Indians is the smallest.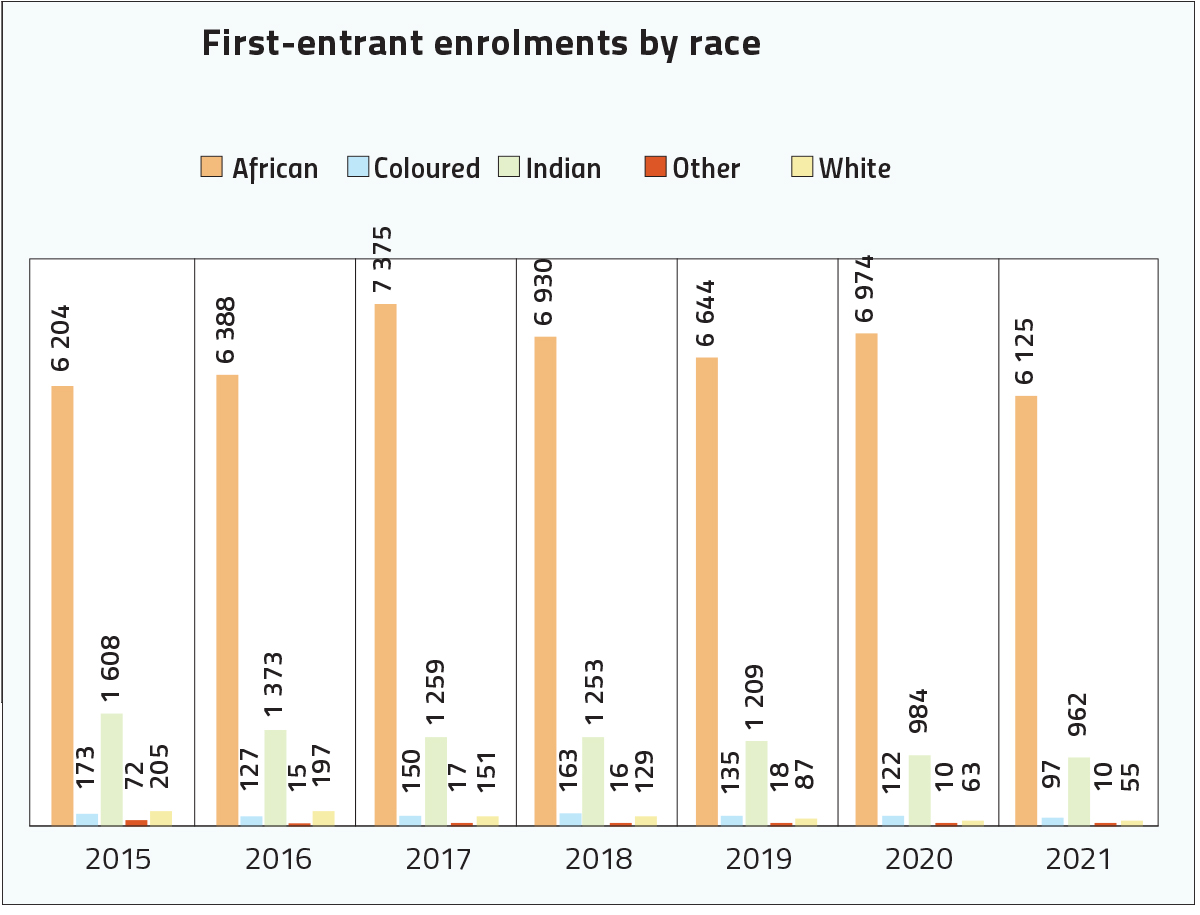 Figure 7: First-entrant Enrolments by Race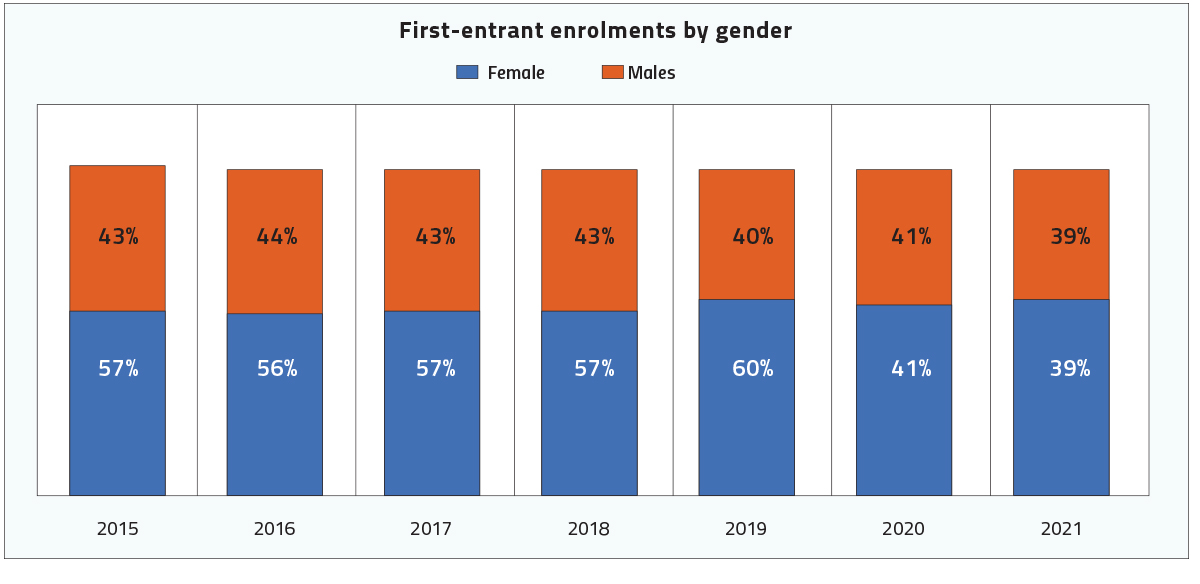 Figure 8. First-entrant Enrolments by Gender
Female enrolments were consistently higher than male enrolments from 2015 to 2021.
UKZN reached a record high of enrolling 61% females in 2021, a 2% increase from 2020.
In a nutshell, this reflects a 4% growth in female enrolments since 2015, compared to a 5% decline in male enrolment.
UKZN Graduates and Dropouts: 2015-2017 Cohort Analysis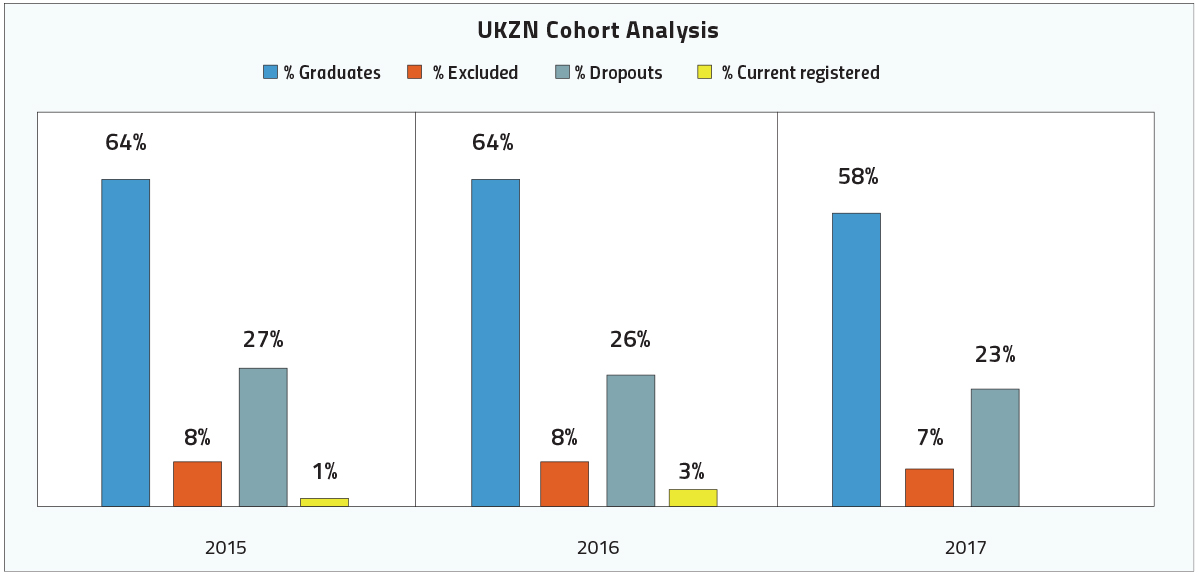 Figure 9: UKZN Cohort Analysis
Figure 9 reports all FTEN UKZN undergraduate diploma and degree students, including contact and distance mode from 2014 to 2021. It shows overall graduates, excluded, dropouts and currently registered students for the 2014, 2015, 2016 and 2017 cohorts. These include three-year diplomas and degrees, and four-year degrees as well as any undergraduate degrees such as in medicine and surgery, which normally take up to six years to complete.
The overall profile of the 2015 cohort admitted to undergraduate studies at UKZN shows that of the 8 210 students enrolled:
64% graduated,
8% were excluded,
27% dropped out, and
1% were currently registered.
In the 2016 cohort, enrolment was maintained at 8 221 with exactly the same percentages as 2015 for the graduation rate, excluded and currently enrolled students; however, the dropout rate decreased by 1%.
In 2017, UKZN had the highest enrolment of students (9 074) since 2015. However, this was not complemented by the graduation rate that decreased significantly to 58%, with excluded students decreasing by 1% and most notably, student dropout decreasing to 23%.
The Kresge Foundation Grant
The Kresge Foundation approved a grant of $100 000 per annum for three years to support and strengthen UKZN's capacity to enhance student access, success, and quality through various programmes. The programmes' focus areas are building institutional research and analytics capacity, data coaching, curriculum reform and participation in regional, national and international learning collaborations. One of the conditions of the grant is the expectation that UKZN would implement the AutoScholar Advisor as an evidence-led student success intervention and share its experiences with other grant recipients.
The original UKZN proposal approved by Kresge-Siyaphumelela focused on face-to-face training sessions and consultations with external/ international experts. Due to the restrictions associated with COVID-19, it was necessary to revise the budget to respond to new realities and opportunities offered by online teaching and learning platforms. Associated with this shift is the need to monitor student access and success with regard to the effectiveness of alternative pedagogies and approaches, which provides a new context for data analytics and institutional research.
The objectives of the programmes are to:
Advance capacity building in data analytics and institutional research at UKZN
Provide contextualised data and analyses to describe and evaluate the access, admission, progression and retention, and graduation of students
Address systemic institutional barriers impeding academic success
Create awareness of and support for improving student success in UKZN through the use of data
Organise capacity building seminars on data analytics for staff
Realigned and Revised Siyaphumelela Project Plan: 2022-2023
This section outlines revisions to the Siyaphumelela implementation plan at UKZN, as recommended by Kresge/ Siyaphumelela leadership and the UKZN Data Coach. The revisions are aimed at streamlining the activities to align more closely with the central objective, viz., achieving increased graduation rates through deeper understanding of progression trends and interventions that have a significant impact in promoting success. In the original implementation, a fairly broad suite of projects was conceptualised. Subsequent experience brought to light which projects had the greatest potential to achieve impact and fulfil the goals of the UKZN Access and Success Advisory Forum (ASAF).
Access and Success Advisory Forum (ASAF) Projects
The data underpinning the various projects derives from the 2021 Academic Monitoring and Support (AMS) report. Projects were originally grouped into eight focal areas spanning the entire range of possible activities from student entry to exit. The focus areas are now organised with reference to the over-arching goal in three main streams: Focus Area A, identifying success and failure; Focus Area B, causes of success and failure; and Focus Area C, intervention and support to further develop success.
Projects' Focus Areas
Focus Area A: Identifying Success and Failure Overview: The emphasis in this focal area is on identifying students, courses and programmes exhibiting success and risk behaviours. Projects: At-risk identification, Cum laude tracking

Focus Area B: Causes of Success and Failure Overview: The emphasis in this group of projects is on estimating the cause of low or high performance among the students, courses or programmes identified by the Focus Area A projects. Projects: Influence of assessment design, influence of administration and logistics, and Influence of First-Year Experience Programme

Focus Area C: Intervention and support to further develop success Overview: This focus area utilises the lessons learned from Focus Area B to design interventions and support mechanisms aimed at supporting improved graduation rates. Projects: Implementation of automated student advising, implementation of a student support portal, and implementation and adoption of innovative teaching and learning approaches and materials
Institutional Research Capacity Grant
To support data analytics and institutional research capacity-building at UKZN, grants were made to teams to conduct institutional research. The areas of interest include access, admission, progression and retention, and graduation. These will allow us to build on the work done in these focus areas at UKZN. Research grants were made available to researchers who wish to research the following identified themes: 1 Graduate attributes, 2 Design and relevance of curriculum, 3 Exploring the experience and impact of transitioning to online teaching methods, 4 Blended integrated student support and engagement for sustainable academic success, 5 Students' attitudes towards eLearning, 6 Operational efficiency projects and systems integration, 7 Transitioning to remote/ online assessments, 8 Putting the "blended" back into blended learning, 9 Student and staff expectations and experiences.
Teaching Advancement at University Fellow Research Project Grant
As targeted, four TAU fellows in collaboration with the TAU alumni were awarded funding to conduct research projects in August 2021. The research projects are centred around:
At-risk students,
Blended integrated student support and engagement,
Developing a framework to measure the success of student support programmes,
A systemic view of transitioning to the new norm.
Teaching Innovation Grant
To perform effectively and to remain at the cutting edge of knowledge and skills in Higher Education, academics at UKZN are expected to engage in the scholarship of teaching and learning (SOTL). A range of activities and experiences are required to support academics to advance their capacity to conduct a rigorous SOTL. To support this initiative UTLO provides Teaching Innovation Quality Enhancement Grants (TIQEG) funded by the University Capacity Development Grant (UCDG). In 2021, 14 projects that aligned with the objectives of the grant were funded.
Academic Monitoring and Support
First-Year Experience Programme
UKZN has broadened its scope of student success by supporting a University-wide first-year curriculum. The envisioned UKZN FYE strategy/ programme seeks to draw on best practices from Colleges and develop a coherent transitional experience for first-entry students. Designed by an interdisciplinary team of experts from the Colleges, this programme is intended to be appropriate, relevant to the context, and responsive to students' transition support needs. Such support is particularly relevant given emerging changes and challenges in the Higher Education landscape occasioned by online and remote learning and open access dispensations. The FYE programme will be piloted in 2022.
The 8th Academic Monitoring and Support Colloquium
The 8th Academic Monitoring and Support (AMS) Colloquium was hosted by the College of Law and Management Studies. Its main aim was to provide a platform where all key players, academic staff, academic support staff and student support staff could come together to take stock of our experiences during the pandemic and reflect on successes, challenges and opportunities brought by the digitisation of teaching and learning. The Colloquium also provided a platform to reflect on AMS in general, picking up from where the 7th AMS Colloquium left off, while providing some evidence of impact and a roadmap for future provision of AMS considering that eLearning has become mainstream in Higher Education.
This two-day Colloquium featured several papers and plenaries which covered online learning during the pandemic and the impact of academic support interventions over the past decade.
The keynote address entitled "Helping Students Thrive During COVID-19 Online" was presented by Professor Chenicheri Sid Nair, Dean, Learning, Teaching & Student Experience at the Victorian Institute of Technology (VIT), Australia and Dr Upasana Singh, Academic Leader in the Discipline of Information Systems and Technology at UKZN. The session was chaired by the Dean of Teaching and Learning in the College of Law and Management Studies, Professor Msizi Mkhize.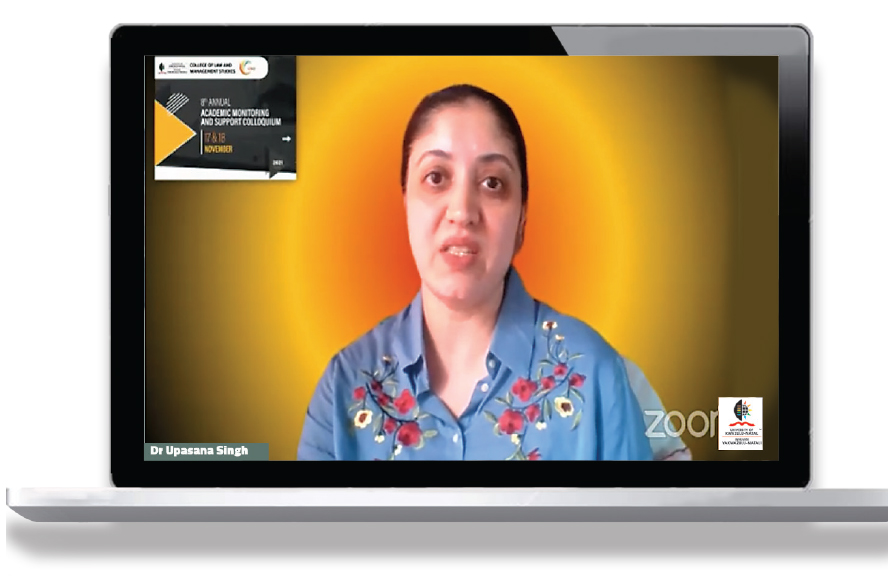 Dr Upasana Singh at the 8th Annual Academic Monitoring and Support Colloquium – 2021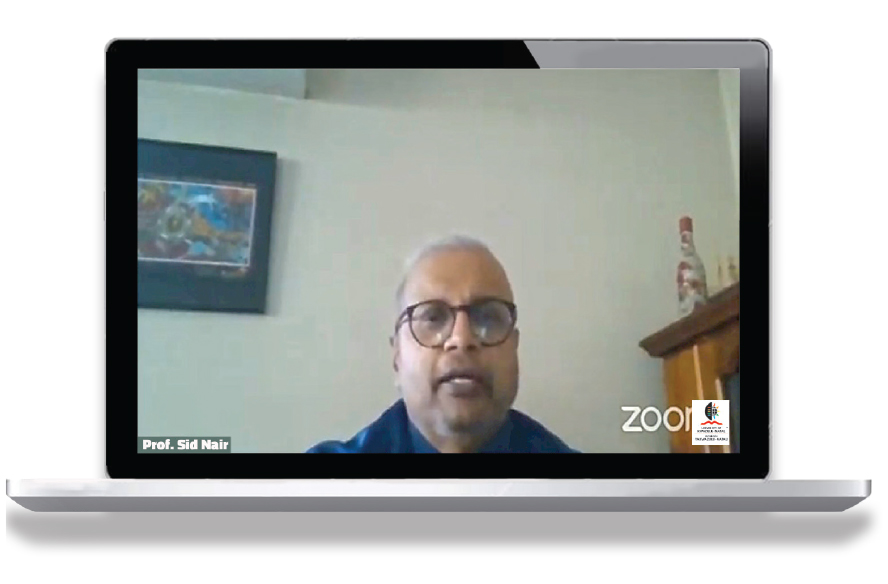 Professor Chenicheri Sid Nair at the 8th Annual Academic Monitoring and Support Colloquium – 2021
Professor Nair began his presentation by highlighting how COVID-19 had disrupted higher learning, not only in Australia but globally and how this places student support at the centre. Using survey data, he also highlighted Higher Education Institutions' adaptability to online learning, showing how before the pandemic, both African and Australian universities were predominantly face-to-face, but they had to make an emergency shift to online learning. Only a few institutions have been using a blended approach. He also highlighted some of the challenges students and academic staff face in the switch to online learning and hence the need to support both.
Dr Singh addressed the challenges staff and students face at UKZN, including IT proficiency, digital fatigue, a lack of interaction with lecturers, appropriate use of digital materials, and timely feedback. She mentioned an ongoing study which aims to understand why there has been an upsurge in pass rates during online learning, even in modules that previously had poor pass rates.
Scholarship of Teaching and Learning
Conference/Symposium Presentations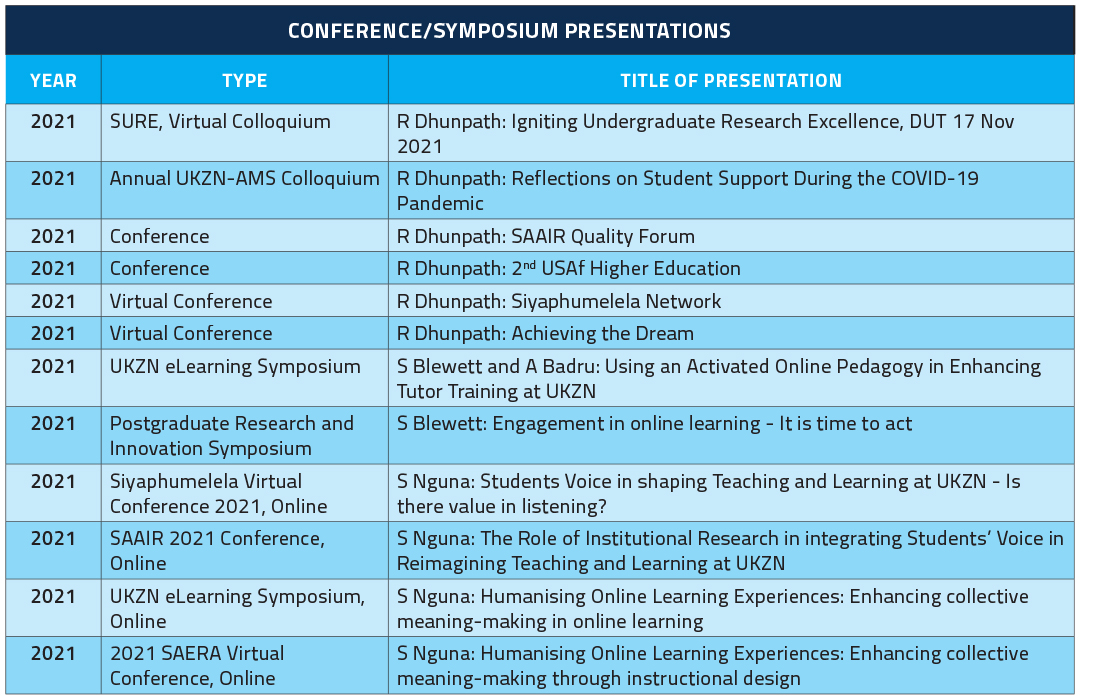 Table 4: Conference/Symposium Presentations
Publications

Table 5: Publications
2021 UKZN eLearning Symposium Resources
The recordings of the presentations at the 2021 UKZN eLearning symposium were edited by the UTEL team and curated by the UTLO. The videos are published on the T&L TV and are publicly available for viewing on the eLearning Symposium Playlist.

eLearning Symposium Playlist on T&L TV